---
Published: Hunting & Fishing Collectibles Magazine
January-February, 2003
I called publisher Stan to talk with him about an advertisement for my new Ira Hudson book, and I got in a conversation with him about how much I was enjoying the articles where collectors pick their five favorite birds. I mentioned how hard it would be for me to even select five of my favorite Hudson's, and he challenged me to do so. So here goes.

Back in the mid-80s I was told by a long-time Hudson collector that he might sell me his more than 50 Hudson's he had accumulated over the years. Thereafter a ritual began prior to the major decoy auctions. I made it a habit of calling this collector and asking him if he was ready to sell his Hudson collection, because I was on my way to the auction and would probably spend all my available cash. He always responded, "no," he wasn't ready yet. I called him right before the George Star auction in 1986 and gave him my usual question, and to my surprise he responded that he was ready to sell. I asked him what his sale price was, and it seemed reasonable to me. So I jumped in my car the next night with a certified check for his exact asking price. When I arrived at his house I took out a yellow pad and I began tabulating values on his decoys, and when I was about 2/3 of the way through them I had reached his selling price. I told him I would take the collection, and he responded by asking if I didn't want to think about it for a while and asking how was I going to arrange payment to him. Imagine his surprise when I handed him a certified check and said, "I am ready to complete the transaction tonight."
In that collection of decoys is arguably the very best mallard c.1940 that Hudson ever carved. It is well known that Hudson would go to extremes in designing and carving special decoys if the purchaser of same was willing to pay an extra dollar or two for his top quality decoys. E.T. Calhoun of Delaware purchased a rig of Hudson's finest and this is a mallard with Hudson's best style low head, high tail, angry brow, beautifully carved, fluted tail. This is a rare carving too. Ira Hudson carved very few working Mallard decoys. Hunters were not after Mallards where he worked in the first half of the 20th century.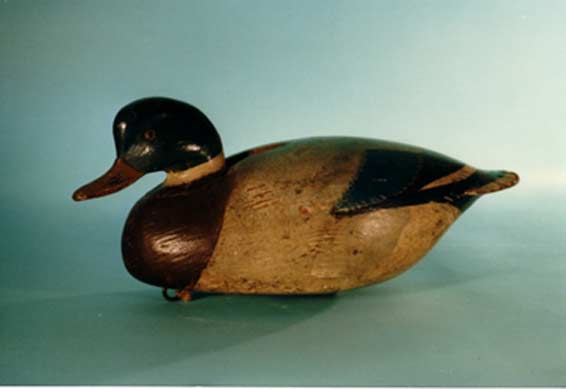 On the barrier Island off the Virginia coast where Ira carved decoys they called them "hariy heads." This great merganser deserves the nickname. It came up in an auction in Maine a few years back. My friend Jack Marsh described it as having a "woody woodpecker" look to it with its unusual upswept crest. I found out the consigner was Ron Gard, and talked with him about it a few weeks ago. He said he was sorry he parted with it, and so will I be when I pass it on…years from now, I hope. It's worn, rather chewed look adds to its appeal. A beautiful gunning bird!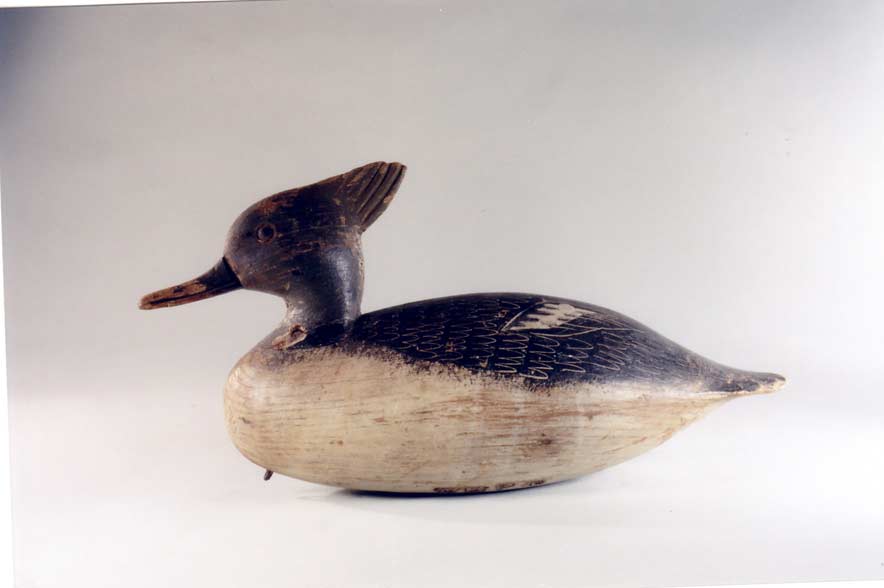 My favorite black duck is a decoy which is a hunting bird that was never weighted and never hunted over. Hudson gave it a special treatment with scratch painting nearly all the way around the bird and a very thin tail and beautifully seated head on a shelf, as reflective of his style of black duck in the 1920s. This particular decoy was an advertisement and resided in the Samis & Bray Hardware store in Easton, Maryland with a sign suggesting that you buy your Ira Hudson decoys here. Wouldn't you like to have the sign to go with the decoy?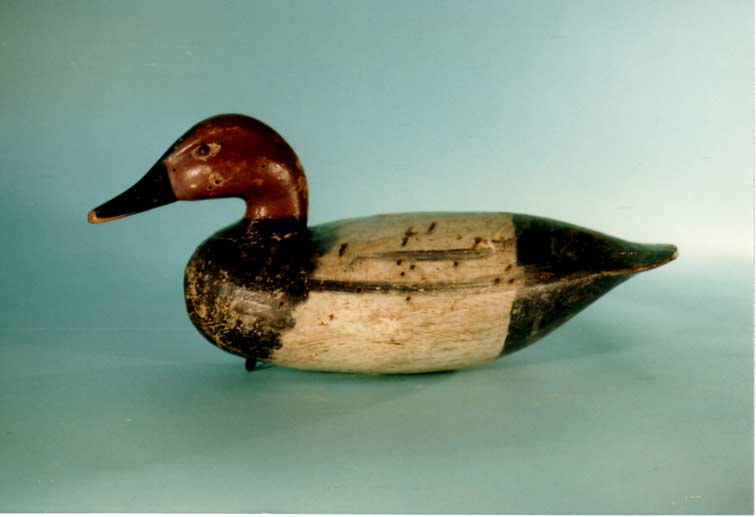 Back in the 1980s when Henry Fleckenstein wrote Southern Decoys, he had a fairly good collection of Hudson's. When I visited with him to look at his Hudson's, I talked him out of the canvasback I've shown here. It also has a very heavy brow and it was definitely gunned over. In fact it is raked with shot which somehow enhances its appeal to me. This bird is also from the 1920s and demonstrates Hudson's round bodied, flowing tail style with the head resting on its shelf. Hudson didn't make many cans, as they were seldom found off the Virginia coast and in the mouth of the Chesapeake Bay where most of Hudson's decoys were in great demand.
Milt Weiler's favorite working decoy was an Ira Hudson bufflehead. Through some protracted negotiations it eventually ended up in my hands. Aside from its great form it has green, almost iridescent paint on the neck which buffleheads in nature tend to have, but rarely is found on any bufflehead decoy. This paint pattern is unique, I believe, among the known Ira Hudson buffleheads. Although I don't own it and can't really display it here, I think the hen that Dr. McCleary collected that was sold in his auction of January 2000 might be on my list if I had it in my possession. But I was the underbidder on a bird which I believe would be the perfect mate for my drake.
When I look over my selections I realize that I didn't include either my drake teal in original paint or a pintail, and Hudson made fabulous pintails. I also didn't include any of the decoratives which I left off deliberately knowing that I would only get confused if I tried to determine whether I should include decoratives along with working decoys. One of the great things about collecting Hudson's is that he never used a pattern; and therefore, there is tremendous variety within each species of decoy that he carved over his forty plus years as a decoy maker.
Click here find out more about Ira Hudson and Family, Chincoteague Carvers as well as Lloyd Tyler, Decoy Maker and Folk Artist. Both books are available for sale and would make the perfect gift for any decoy enthusiast.