Strange things happen when you are a collector. You don't just collect objects like everyone sees, you collect stories. And sometimes the story is more interesting and more impressive than the object. Not long ago a real estate guy who collected decoys gave me the pictured decoy because he knew I collect Ira Hudson decoys, and I need a goose now and then.
He gave me this Ira Hudson carved goose with the crazy white paint job and names written all over it that he found on a small farm he sold in Talbot County , Maryland . He said the goose belonged to General "Wild Bill" Quinn, an army retiree who resided on the farm. The story was that the General had visitors sign the goose which had been repainted white like a snow goose and adorned with General's golden stripe markings around its tack eyes. It was unusual and interesting to say the least.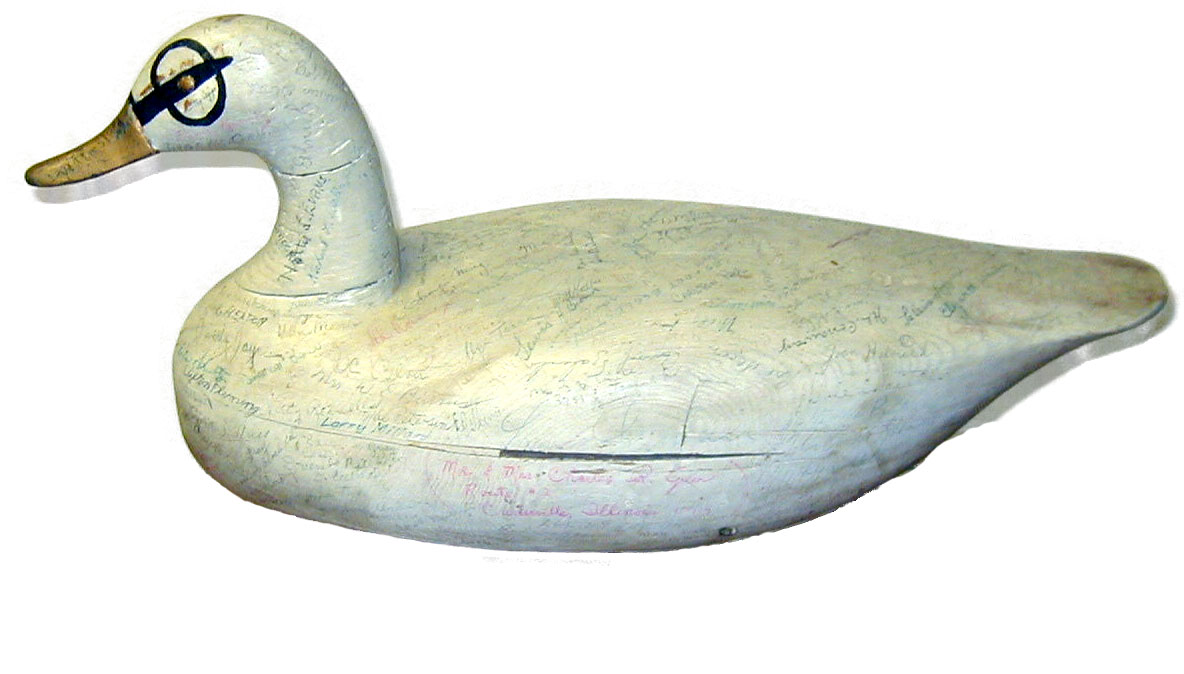 It took me awhile, but I finally got on the Internet to look up General "Wild Bill" Quinn resulting in nothing but "No Hits." Later I tried just General William Quinn and I found him. General William Quinn died at the time of the real estate sale, and he was a member of the Talbot Historical Society it said in his obit, so I think I got the right guy. So who was this person who painted a canada goose as a snow goose and promoted him to the rank of General, and had his friends write their names all over his goose's dress white uniform? Well, he was rather amazing from what I can tell from his official record.
And his daughter Sally Quinn, the writer, is pretty amazing herself, if you're into the Washington , D.C./Georgetown social scene, which I am not. I did try to talk with General Quinn's offspring, and caught up with the daughters, the other being Donna Quinn Robbins a successful lady residing in California . They were polite, and remembered their father's love of hunting, fishing and the Eastern Shore of Maryland life, but they didn't remember the decoy. All three of them (he had a son out West) are published, and Sally Quinn with The Washington Post has written extensively, to say the least! She told me he had another farm called "Make Peace" in the Cambridge , Maryland area where he hunted and fished with friends. There is a famous colonial home in the Crisfield area known as "Make Peace" which may have inspired the General to pick that name for his farm.
General "Buffalo Bill" Quinn wrote at age 92 and amusing book entitled "It Wasn't Funny Then" where he describes his life's misadventures growing up in the Crisfield, Maryland town, famous for producing the area's best known seafood, blue crabs and decoy makers, the Ward Brothers. He then pokes fun at himself as he achieves fame and awesome responsibility in a very distinguished military career, among other accomplishments. Many people in Washington circles credit General Quinn as having a large part in the founding of the C.I.A. He hobnobbed with a half dozen presidents, Bob Hope, and one of his best friends was Senator Barry Goldwater.
Sally Quinn
www.aegis-consulting.com/quinn
All was not good humor with General Quinn. Here is a quote from a letter he sent Elsie K. Young, a journalist.
"Our Country" – William W. Quinn
"The Worlds Great Civilizations averaged a cycle of 200 years. Those Societies progressed thru this sequence: From bondage to spiritual faith. From spiritual faith to great courage. From great courage to liberty. From liberty to abundance. From abundance to selfishness. From selfishness to complacency. From complacency to apathy. From apathy to dependency. From dependency back again into bondage."
"As the United States has passed its 200th birthday, and in view of the recent epidemic of immorality, I wonder how your readers would assess America 's current position in this cycle."
What a guy! It's sometimes amazing where a little research on a duck decoy will take you. And the Internet search engines have made so much information accessible to collectors of decoys and history, like me. By the way, as far as we know, Ira Hudson never made a snow goose. At least we haven't found one yet. I wonder if Buffalo Bill knew that? Do you wonder how he got his nickname? Read the obituary from Arlington National Cemetery where this super active patriot finally rests. http://www.arlingtoncemetery.net/wwquinn.htm.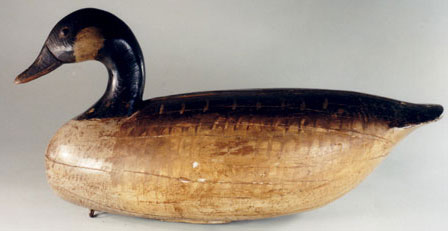 Ira Hudson c. 1930's
Original paint goose which shows how General Quinn's goose might have looked with it left Ira's shop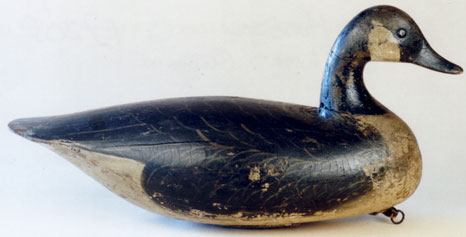 Ira Hudson c. 1920's
This goose was repainted by the Ward Brothers and has the same general form
Henry H. Stansbury is Author of Ira D. Hudson & Family, Chincoteague Carvers, published in November 2002 and available at asionline.com/decoys. Email to contact the author: hstansbury@asionline.com
---